On-line Work Order System
Our on-line work order system allows authorized faculty and staff to submit requests for service to the Facilities Maintenance, Grounds and Custodial departments within the Foothill-De Anza Community College District.


Features / Benefits for users of our on-line system:
1) The ability to submit requests on-line.
2) The ability to track a submitted request from acceptance to completion.
PLEASE NOTE:
Key Request and Door Lock Issues:
The FHDA Police Department manages these as part of the overall District Security.
To report urgent or immediate issues, please contact the police by calling 650-949-7313.
To submit a work request for keys or door locks, please go to https://etshelp.fhda.edu and submit under "New Work Request Form", Lock Shop Request. For questions related to submitting work request, call 408-864-8324.
Surplus Requests:
Please login to Myportal and use the surplus request under the tile Asset Managemnet Platform(AMP) Surplus Request.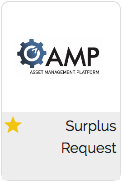 Computers, Printers, Networking, Phones, Audio-Visual Support:
The District's Educational Technology Services (ETS) manages the support for your technology needs.
http://ets.fhda.edu/ go to Getting Help
Please LOGIN: